Consumer groups across the Asia-Pacific region want tobacco harm reduction (THR) to be acknowledged as a human right and public health strategy to help smokers reduce the harm caused by the smoking epidemic.
THR aims to provide alternatives to reduce risks caused by smoking cigarettes. Electronic cigarettes, heat-not-burn (HNB) or heated tobacco products (HTPs), snus and other electronic nicotine delivery systems (ENDS) are considered a part of THR.
In the Philippines, the THR movement has gained following over the past two years. In August 2018, the House of Representatives adopted a resolution urging the Department of Health (DOH) to promote THR measures as part of its National Tobacco Control Strategy.
Joey Dulay, president of the Philippine E-Cigarette Industry Association, said that by adopting the resolution, the House of Representatives sent a strong message to the DOH to abandon its misguided belief that "quit or die" are smokers' only choices.
Health experts warned that of the 1.1 billion smokers around the world, nearly half will eventually die of smoking-related illnesses if they don't stop or switch to less harmful alternatives. It is estimated that the smoking epidemic claims the lives of 20,000 people each day—a death toll that could be prevented if they are given a chance to access nicotine without combustion or burning.
Independent studies by Public Health England and Cancer Research UK showed that since e-cigarettes were introduced in the U.K., smoking prevalence among adults and the youth have declined, confirming that e-cigarettes do not serve as a gateway to smoking.
A 2015 study by Public Health England found that e-cigarettes are 95% less harmful than smoking, as the harmful chemicals present in smoke are either not in e-cigarette vapor or only found at much lower levels. Health experts believe that by removing the burning process that produces smoke, there will be reduced risks in using smoke-free nicotine products such as vapes, heat-not-burn products and snus.
Clarisse Virgino, the Philippine representative to the Coalition of Asia Pacific Tobacco Harm Reduction Advocates (CAPHRA), said that these safer alternatives are now available to help adult smokers switch. On Feb. 28, CAPHRA launched the Asia-wide education and information campaign #SmokeFree4Life with a call on the World Health Organization (WHO) and the DOH to respect the rights of smokers who want to switch to these alternatives.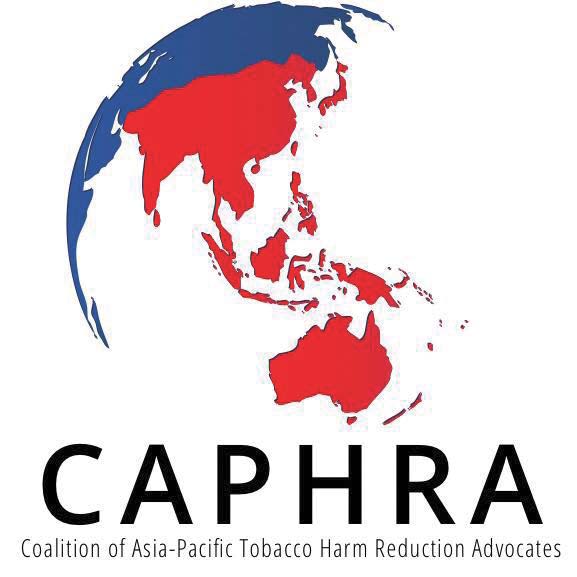 "We, vapers and former smokers, and advocates of tobacco harm reduction, have an opportunity to add to the global discussions on electronic nicotine delivery system, heat-not-burn tobacco products and snus as much safer alternatives to combustible cigarettes. We stand up for our freedom of choice. We stand up for our rights as consumers," Virgino said in her speech during the launch of #SmokeFree4Life in Poblacion, Makati City.
During the 7th Global Forum on Nicotine from (Jun. 11 to 12), which was held virtually due to COVID-19, Virgino asked Asia-Pacific countries to reconsider the ban and restrictive policies imposed on smoke-free nicotine products that are considered a part of THR.
"It's a sad thought that in this ruckus, consumers become the collateral damage—the one that, in the end, will suffer, if prohibitive policies will be put in place," said Virgino.
"Prohibiting THR products such as e-cigarettes or vape, HNB devices, and snus will not just affect people who have already made the switch. This will affect people who are still trying to quit regular combustible cigarettes, depriving them of their right to do the switch, or basically, just to choose. A person's right to choose is not just a consumer right, but it's a basic human right," she said.
About 80% of the world's 1.1 billion smokers live in low and middle-income countries such as India and the Philippines. THR advocates said that instead of an outright ban on THR products, the governments in LMICs should put in place fair regulation of these products to encourage smokers to switch and consequently lessen the burden on public health.
Virgino said they prefer a regulatory policy, rather than a prohibitive one when it comes to THR products. She said that regulations should be reasonable, fair, and humane. "We cannot have regulations which just equate to banning too, obviously," she said.
"I remain hopeful that our policymakers, not just in Southeast Asia, but all over the world, truly take into consideration the plight of consumers, as well as their welfare, so that consumers will not serve as collateral damage, whether now, or in the long run," she said.
Peter Paul Dator of Vapers PH said consumers in LMICs should enjoy the same access to safer alternatives to tobacco products as consumers in advanced countries such as the UK, Japan and Sweden where smoking rates have dramatically declined since the introduction of technology-aided smoke-free nicotine products in their markets.
"It is all the more important to introduce tobacco harm reduction products in low and middle-income countries where smoking rates are higher than in advanced economies. This would translate into substantial public health gains for millions of people who are currently exposed to the toxic elements of smoke," Dator said.
Virgino said, "It is high time to embrace tobacco harm reduction and what it entails, and there is a ton of data that supports it. Coming up with and implementing prohibitive policies goes against the very essence of tobacco harm reduction, that is, smoking cessation, and evidently, saving lives."
Original article from Philippines Graphic: https://philippinesgraphic.com.ph/2020/10/25/consumer-groups-support-tobacco-harm-reduction/